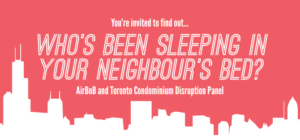 Toronto is the largest condominium market in Canada with thousands of units per night listed for rent on Airbnb. The growth in condominiums and the growth in sharing economy platforms like Airbnb has become an issue for condominium owners, boards and managers.
This standing room only event hosted by the Ted Rogers School of Hospitality and Tourism Management, featured experts and stakeholders speaking about the disruption of Airbnb on Toronto condominiums. Speakers reviewed the latest research on tourist motivations, Toronto Airbnb listing supply, condominium issues and how the issues are dealt with.
Presenters
Dr. Daniel Guttentag
Dr. Chris Gibbs
Panel of Speakers
Dianne Francis,    Moderator
Todd Hofley,  Liberty Village Condominium Association/Condo Owner
Denise Lash,  CAI President and Condo Lawyer at Lash Condo Law
Roger Thompson, CAI Director and Vice President Strategy and Sustainability for FirstService Corporation.
Airbnb Host/Owner Perspective   
Vass Bednar, Senior Policy Associate at Airbnb.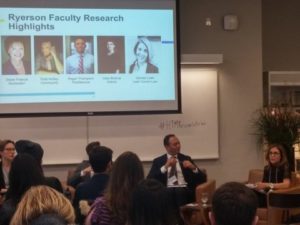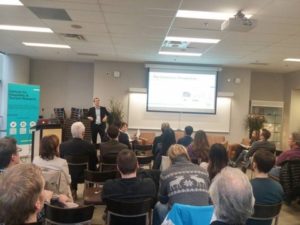 On February 15, 2017, CAI Canada hosted its first virtual webinar on "Airbnb, the Uber factor of Condominium living: An International Perspective". The event attracted over 200+ live participants, and 6 live guest speakers from the United States and Canada.    Watch the video here if you missed the original Webinar.